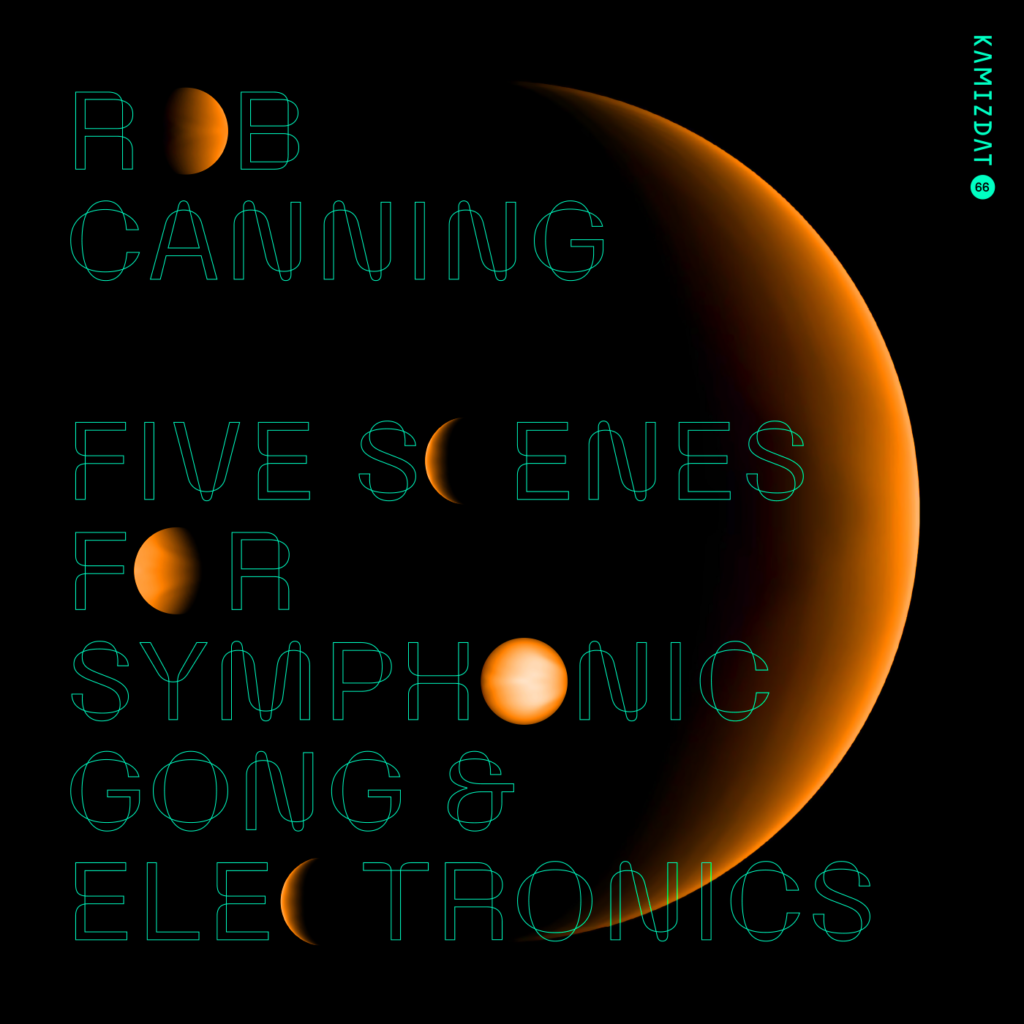 Plošča Five Scenes For Symphonic Gong And Electronics je prvenec irskega glasbenika, skladatelja, intermedijskega umetnika in pedagoga Roba Canninga in predstavlja pet poglavij subtilnih zvočenj zvenskih nians simfoničnega gonga, razširjenih z elektronsko zvočno modulacijo analognega sintetizatorja zvoka.
'Superpozicija (kompozicija?) zvokov Roba Canninga je potopitvena (tridimenzionalna: zvoki so povsod okoli nas – če smo sposobni vstopiti v abstraktni prostor) in zato intelektualno izpolnjujoča. Zlahka opazujemo različne oblike zvočnih dejavnosti – "življenje" zvokov. Do komunikacije med zvoki pogosto pride, ko se ti med seboj modulirajo. Vendar se to zgodi le v ušesu opazovalca (poslušalca). To lahko storijo povsem čiste in preproste valovne oblike. Rezultat ni hrup – v običajnem smislu presežka (spektralne gostote, nemuzikalnosti, glasnosti …) -, temveč nasprotno. Je nenavadno čist.' – iz spremne besede Boruta Savskega
Seznam skladb
Scene I – for gong with distortion and analogue synthesisers.
Scene II – for gong with ring modulator, distortion and voice.
Scene III – for gong with analogue synthesiser, distortion and computer.
Scene IV – for gong with generative loops (phase patterns).
Scene V – for gong and live electronics.
Bandcamp
Sodelavke_ci
Rob Canning · Symphonic Gong, Programming (Supercollider), Synthesisers (Moog Mother32 and MF Ring Modulator), Voice
Meta Živa Canning · Voice (Scene II)

⨯ Recorded in Zavod Rizoma's KontejnerLab studio residency space. zavodrizoma.si

⨯ Special thanks to my family, Barbara, Meta and Zoë for creating the time and space for this album to be made and to the team at Kamizdat for the invitation to create this work for release.

⨯ All tracks recorded and mixed using only free and open source software, thanks to the development community of Supercollider, Ardour and GNU/Linux (Debian).

⚬ All tracks composed by Rob Canning.

Samuel Aubert / OpenMastering · mastering
Tina Ivezić · graphic design
Maruša Hren · USB booklet, printing, bookmaking
Luka Prinčič & Luka T. Zagoričnik · executive production

City Municipality of Ljubljana · financial support
Radio Študent · media support
Prenos in nakup
Omejena naklada USB knjižic in prosti prenos albuma (po modelu »plačaj kolikor hočeš«) sta na voljo na kamizdat.bandcamp.com.
Glasba je ustvarjena in objavljena pod pogoji Creative Commons BY-NC-SA 4.0 licence ([Priznanje avtorstva-Nekomercialno-Deljenje pod enakimi pogoji 4.0] – Attribution-NonCommercial-ShareAlike). Več na www.creativecommons.com/licence.
produkcija: Emanat | objava: kamizdat.si
cat.no.: KAM066