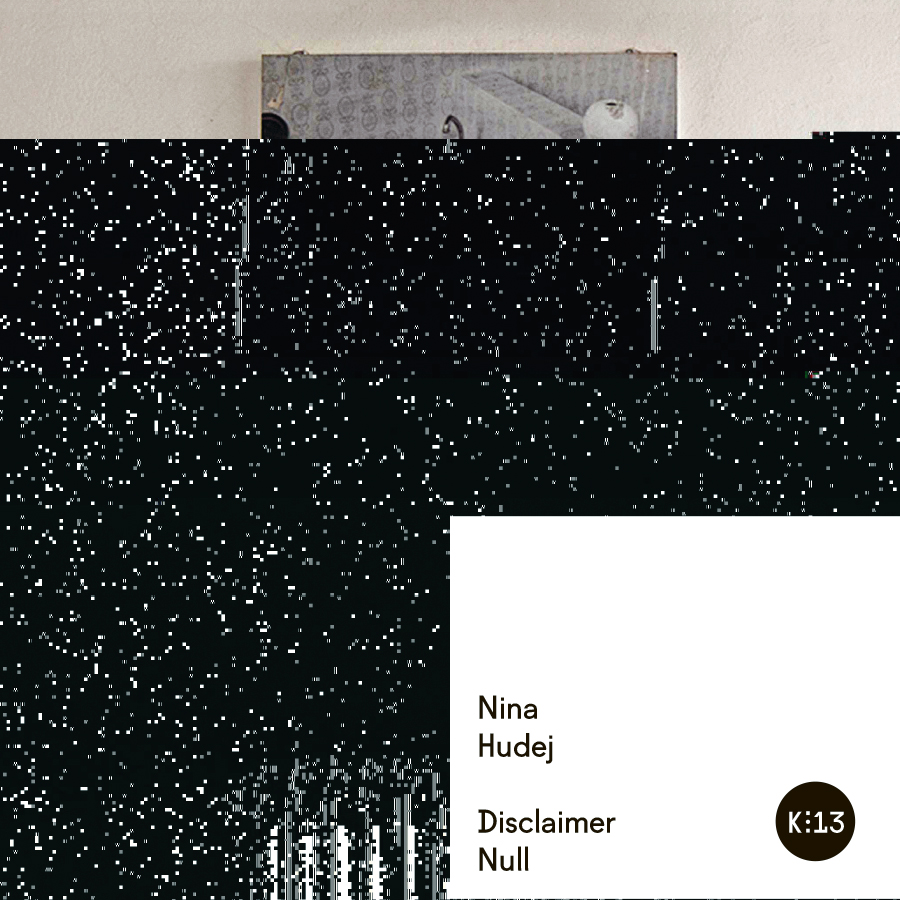 Šest skladb temačne in inspirativne elektronike, ki se vije in pleza preko skal minimalističnega pulziranja, sestavlja abstraktno zgodbo, za katero stoji ustvarjalka konkretnih pogledov, stališč in dejanj. Kot skuša na fragmentiran način prikazati tudi spremljajoče besedilo knjižice, Disclaimer Null govori o izrekanju o konkretni sedanjosti, ki ne potrebuje uvoda in priprave: sporočila med vrsticami ni, dejanje govori samo zase.
(dancefloor): Perhaps there is no way to grasp the essence of electronic journey on this album if its context of the dancefloor is removed. This however does not mean that Nina Hudej's exploration of organised sound does not move, well, dances away from the dancefloor formula. Her work is from the outset already far removed from the happy-go-lucky fun-seeking function of clubnight world as it seeks the conjunction of the physical and the intuitive whatever the outcome. A dancefloor realm within the physical, social, affective bodies where the intuitive, spiritual and the empirical, material collide in a constructive intensity.
(minimalism, repetition): … the beat goes on and on: no doubt the repetition is a positive force with unpredictable effects. tracks are slow, and therefore necessarily immersive. The cyclic nature of the loop. The closed circuit of a beat machine sequence. Science of continuum punctuated by the matrix of time-markers, with intervals of surgical precision of digital technology creating a seeming paradox: despite the imperative of the clock – perception of time is not fixed, but fluid. It is altered within the repetition and slow motion of musical noises.
(activism): disclaimer is void of substance. with NULL there is no deception and no risk. poetry of an empty void. this is a non-appearance of hidden agendas. a statement of honesty. of course it turns back on itself in a paradox, since philosophically speaking by being null it isn't. it fills its blankness with the content of its metaphor. and this folding can recursively fall back on itself. again and again in a vicious mental circle: a honey trap. this is why a null disclaimer is necessary. to trap the infinite recursion of mental recycling and act as a call to open and direct action. for all the queers, women and refugees out there on the cold, in the closet, in peril. the null disclaimer is not only a statement of call to transparency and honesty, but also a document of silence, the erasure which is forced upon the different in various acts of systemic and physical violence.
(inclusive spaces): Dance music is not and cannot be removed from the political dimension. This is precisely because it is a personal vehicle for transformation. However, for Nina Hudej, this seemingly hasn't been taken as an opportunity to ride the utopian turn and imagine overcoming differences through the magic of music, collective partying and distraction by our own mechanisms of desire while discrimination, bigotry, violence and exclusion of women, queers and other minorities continues. Her involvement with local endeavors that provide open, friendly and safe spaces to some of those in need for it cannot be separated from the music she makes.
(darkness): an area of the unspeakable. a part of my soul unwritten. perhaps it doesn't stand the touch, perhaps not even the view. nothing can look at it, because it's an open wound – unscarred, still bleeding. violence is implied, yes. is music-making a way to touch upon the unbearable? deep-listening is a descent into shaded valleys and canyons of complexities of psyche. but then again, dancing to that cut in the groove means fitness to climb the mountain passes and to explore more shadowlands.
Seznam skladb
Prenos in nakup
Prosti prisluh in prenos (plačaj kolikor hočeš) in posebne omejene edicije knjižice in USB so na voljo preko kamizdat.bandcamp.com.
Ustvarjeno in objavljeno pod Creative Commons BY-NC-SA licenco ([Priznanje avtorstva-Nekomercialno-Deljenje pod enakimi pogoji] – Attribution-NonCommercial-ShareAlike) www.creativecommons.com/licence
Sodelavci
Avtorstvo, produkcija, miks: Nina Hudej
Mastering: Carl Bateson, Domen Učakar
Oblikovanje: Tina Ivezić
Besedilo: Luka Prinčič
Izvorne fotografije: Roberto Venegoni (flickr.com/photos/ro_buk)
Tisk in izdelava: Maruša 'Maruji' Hren
Podpora
medijska podpora: Radio Študent Ljubljana
finančna podpora: : Mestna občina Ljubljana – oddelek za kulturo, Ministrstvo za kulturo RS
Recenzije in objave
22.12.2015, Predbožičnih 100db, Radio Študent, Andrej Pervanje
23.12.2015, Peripheral living, Radio Študent, Nina Hlebec
08.01.2016, Nina Hudej: Disclaimer Null, Mladina, Goran Kompoš
16.01.2016, Nina Hudej, producentka elektronske glasbe in promotorka, Mladina, Goran Kompoš
16.01.2016, Radio Študent, Tolpa bumov – Disclaimer Null, Jaka Golob
16.01.2016, Odzven, Ničen diclaimer ob vse, oster rob ob vse, Žiga Pucelj
Povezave
kamizdat.si/releases/disclaimer-null
kamizdat.bandcamp.com/album/disclaimer-null
soundcloud.com/kamizdat/sets/disclaimer-null
soundcloud.com/ninahudej
Pretekli dogodki
25.12.2015, Pritličje, Ljubljana
USB booklet