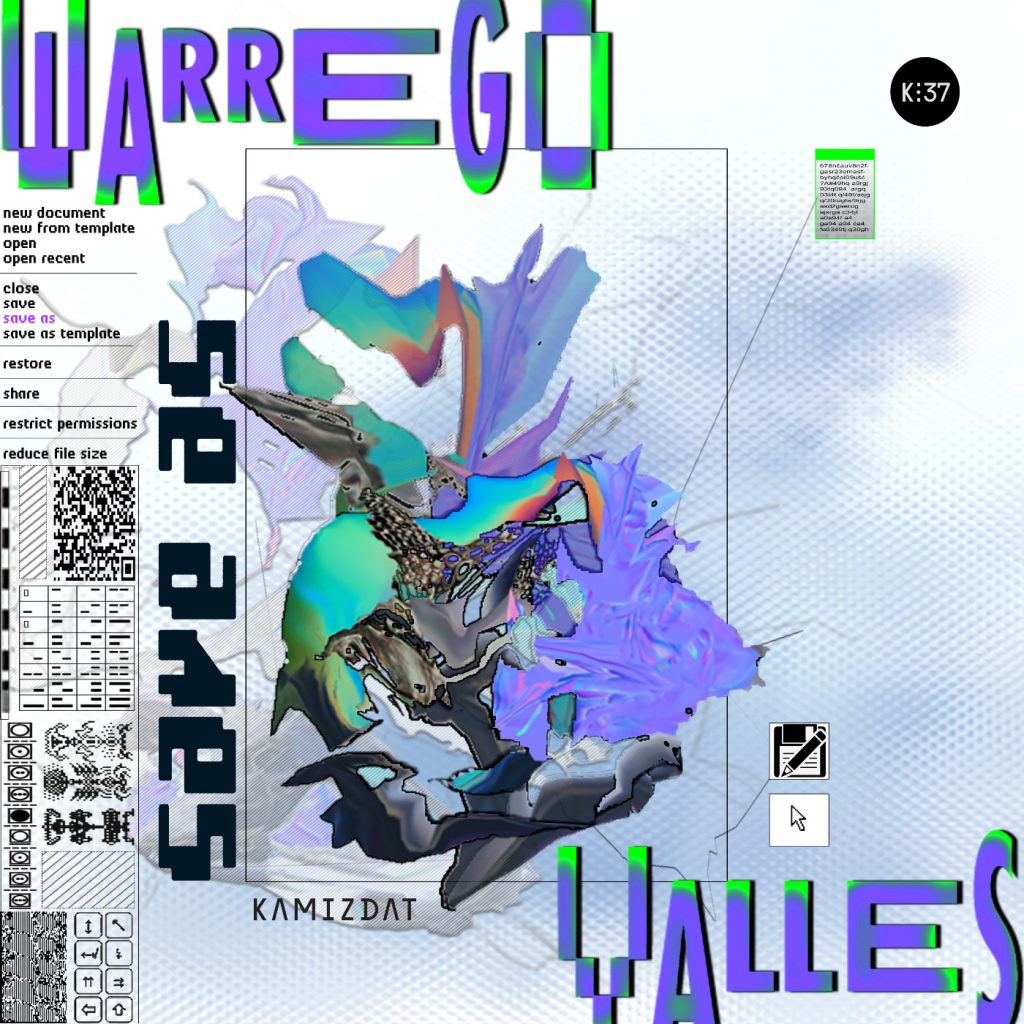 Warrego Valles' third instalment "save as" continues the duo's experimentation with the deconstruction of sound and their attempts at shaping a music conglomerate that will transcend the usual club night format and at the same time allow them to stay true to their raw queer selves. Spawned from what could best be described as a direct plunge into the core of electronic dance music – brutally stripped of its happy-go-lucky feel though – the duo's decision to aim at surpassing genres and merging them with social commentary, vehemently tears up the habitual, while nonetheless incessantly forcing our bodies to move.
Evolution is a constant in our daily lives – constant change and metamorphosis, putting layers on layers, saving data on data. Yet our deepest fear is to be left behind, covered in dust, trapped in the vast space of oversaturated information and a parallel nothingness, forgotten, never saved. Like the 0's and 1's of the binary code, our DNA is a mere system of data, inevitably subject to change as it tries to cope with the pitfalls of existence. If only we were in fact generated as artificial systems – capable of reproducing ourselves and our new selves by producing new genomes, capable of perceiving history not only as it was written, but as it was. Able to remember and never forget. To be – if only for a second – what we once were. What if we could literally save ourselves by saving ourselves as
– Luka Volk
Tracklist
Availability
Free streaming, downloads (name your price) and limited edition USB booklets are available through our Bandcamp shop kamizdat.bandcamp.com.
Some rights reserved under the Creative Commons Attribution-ShareAlike (CC BY-SA) 4.0 International licence – creativecommons.org/licenses/by-sa/4.0
Credits
Warrego Valles (Nina Hudej, Nina Kodrič) · music & production
mapalma · remix and additional production on track 2
Tetsuo · remix and additional production on track 7
Luka Volk · liner notes
Farah Sara Kurnik & Matej Mihevc · design
Maruša Hren · USB booklet
Luka Prinčič · executive production
Radio Študent Ljubljana & ODZVEN/Sigic · media support
City of Ljubljana & Ministry of Culture RS · financial support
Video
USB booklet
Kamizdat · www.kamizdat.si