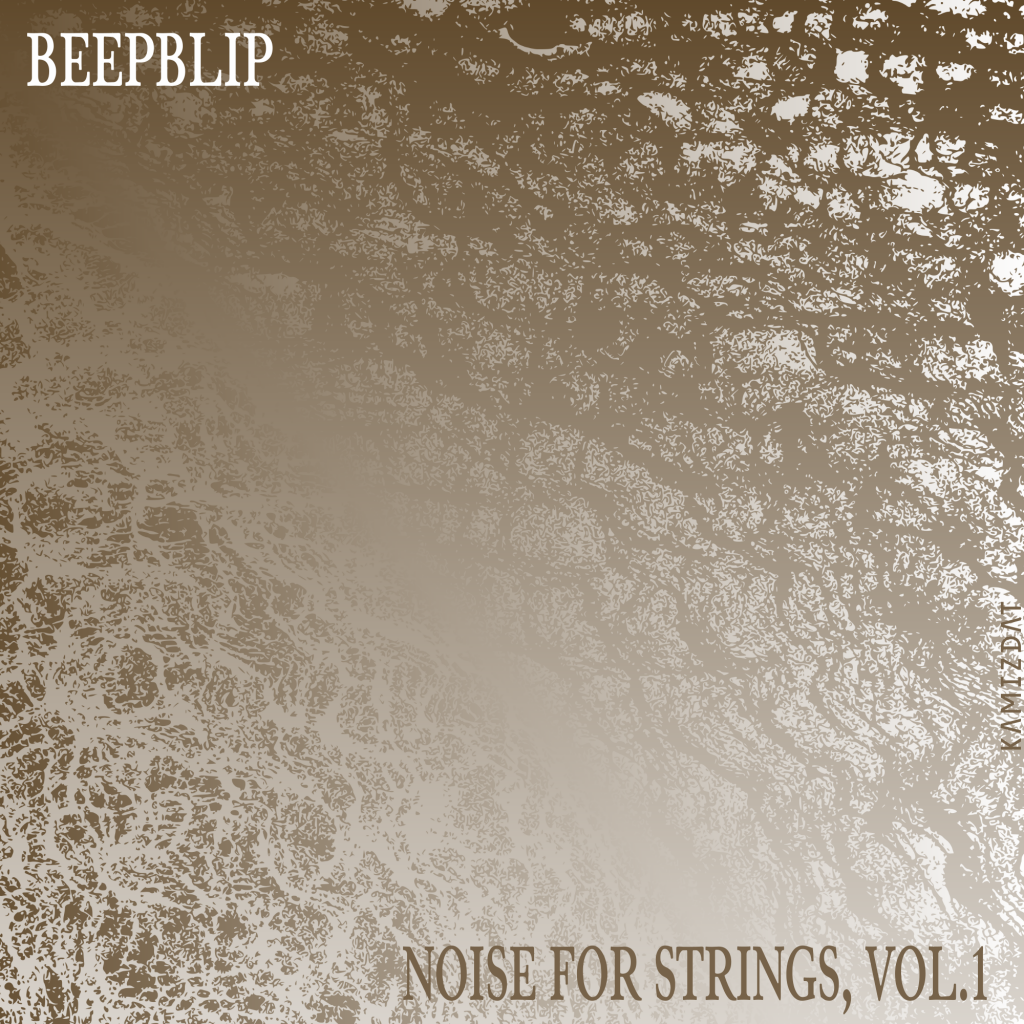 beepblip's debut long-play album brings seven compositions that spin the acoustics of the strings, field recordings, and synthesized noise, always sharply targeted, processed, and intertwined into an immersive soundscape that never ceases to entice the listener into attentive deep listening. The tracks' slowly fluctuating dynamics aims to create an open sound space, underpinned by a foundation that unites topical themes with a clear methodology. The album is based on selected premises of the string theory and the complexity of quantum dynamics, while introducing also certain other levels of music composition alongside this scientific layer: the mechanics of DIY electronics, telling stories of a grim vision of the exploitative Anthropocene, of the apocalypse and how to confront it, and the meaning of magic rituals. With her noise for strings, beepblip taps into the political dimension of sound, daring to ask not only who is listening but also what is it that we do not listen to. Her compositions walk the thin line between cultural appropriation and an emotional response to segregation and colonial tendencies around the world, which are as present today as they were a hundred years ago.
Ida Hiršenfelder is a Ljubljana-based archivist and sound artist. She is interested in the history of media, archives and their disappearance, media archeology, and philosophy of temporality. In the context of sound art, she is specifically interested in bioacoustics and microtonal music. She composes experimental soundscapes with the use of analogue electronics, field recordings, and computer manipulations. She is an advocate and user of free and open source software and was a curator and advisor at the Ljudmila Art and Science Laboratory as well as a member of the experimental sound collective Theremidi Orchestra that focused on developing DIY electronic instruments and creating soundscapes.
Tracklist
Availability
Free streaming, downloads (name your price) and limited edition USB booklets are available through our Bandcamp shop kamizdat.bandcamp.com.
Some rights reserved under the Creative Commons Attribution-ShareAlike (CC BY-SA) 4.0 International licence – creativecommons.org/licenses/by-sa/4.0
Credits
Ida Hiršenfelder · music, recordīng, text, photography
Tina Ivezić · graphic design
Maruša Hren · usb booklet design and manufacture
Luka Prinčič · usb booklet design, graphics, editorial, executive production
Stella Ivšek · Kamizdat Rentgen visuals, streaming, design and promotion
Katja Kosi · proofreading
Some of the field recordings were taken at Danube Delta during Sonic Future Residencies, 2019, organised by www.semsilent.ro.
Radio Študent Ljubljana & ODZVEN/Sigic · media support
City of Ljubljana & Ministry of Culture RS · financial support
A very special thanks to friends and family, Aleš Hieng – Zergon, Robertina Šebjanič, Matija Hiršenfelder, Staška Guček, Michal Kindernay for playing and playing together.
Video
USB booklet